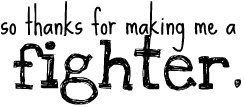 I know you've been there. Picked on, stomped on, beaten, bruised, and bullied until you just don't think you can take anymore. Or maybe it was you who was the bully and the instigator. Most bullies are just like us and have very little self-esteem, so putting down others makes them feel a little better about themselves.
But then you will hit a certain point when you say, "I've had enough. I'm tired of being walked all over. I'm tired of being taken for granted." Stand up for yourself. Make them believe that you're not going to take it anymore. I know that as a young adolesent in middle school, my group of friends and I were not only the bullies, but also the bullied. We would gang up against each other to the point of making each other cry uncontrollably. We were mean and vicious. If one of us was mad at the other, then the whole group would be mad at that person. I've been shoved into lockers, terrorized through the Internet, and called every horrible name in the book, including ugly, fat, whore, slut, bitch, and have been told to "rot in hell."And this doesn't just happen in school, it happens in the real world, too. I know this because it's happened to me, even being graduated from high school for three years now.
How can we treat others this way? What gives us the right? Who told us that we could criticize and abuse our fellow human beings? We're not perfect, so why should we expect everyone else to be?
Advice of the day: FIGHT BACK.
Get mad. Throw a fit. Show that you're the stronger one. Don't be afraid to stand tall. You deserve to. But never, ever sink to their level. Don't throw nasty words back. Don't physically fight them. Most importantly, never show them that they've gotten under your skin.
One of my favorite quotes (childish, but still inspirational) to live by: "Sticks and stones may break my bones but words will never hurt me." And another: "Don't worry if people are talking behind your back. It just means that you're ahead of them."
Songs of the day: Christina Aguilera "Fighter" and Limp Bizkit "Break Stuff"